Maximize Your 30-Day Go Minis Rental
Summertime is known as 'peak season' across the moving industry, as kids are out on summer break, activities are slowing down, and fall presents an opportunity for a "fresh start" in your new home. The peak season for moving also means it's a busy time of year for people buying, selling, and renting homes. Seasonal demand places added pressure on home buyers and sellers to move in and out of their homes at a much faster pace than other times of the year. Quick closings and even faster moving dates often mean our customers who rent between May-August are moving out of one home and into another within 30 days (or one rental cycle).
We've collected some tips for you to consider if you have a move coming up and want to enjoy all the convenience that our portable storage solutions have to offer, even if you have a condensed window of time.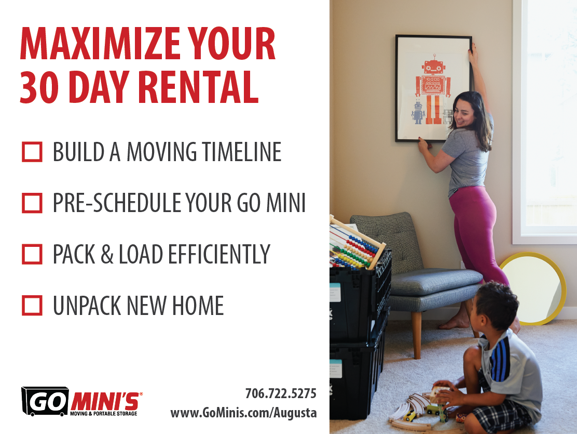 BUILD A MOVING TIMELINE
Start with your closing date or the date that you want to schedule your relocation. Will you need to store your unit for a day or two at our facility or will you have the option for a same-day door-to-door relocation? Consider things like the time you will need on the front end for packing boxes, disassembling and prepping furniture, etc. Then plan how many days you will need to allow for loading the unit after we deliver. REMEMBER: your 30-day rental period begins the day we drop the unit in your driveway, so best not to have it delivered too soon before you are ready to load. If you're wondering how to plan your moving timeline, check out this resource with some key things to keep in mind.
PRE-SCHEDULE YOUR GO MINI APPOINTMENTS
Once you've got your timeline planned out, it's time to schedule your delivery! Many customers call to schedule their initial delivery and then wait to schedule their remaining deliveries as needed. While we are happy to do this and aim to meet your needs as best we can, the busier summer months can have our schedule fully booked up to 10 days in advance.
In order to ensure a go minis container is available, be sure to call at least one week in advance to schedule initial deliveries. As this is our busiest season, moving resources and storage facilities are in high demand and can be booked up quickly.
This can cause an additional setback in your timeline if you are not planning ahead. However, if you already know a general timeline for your move, we encourage you to schedule those dates in advance to ensure everything runs smoothly throughout your move with minimal hiccups in the delivery timeline.
Peak moving season is typically between April - September. If you are planning to move during that time it's important to plan ahead and be prepared for summer moves. With the high demand of about 80% of all moves in the year taking place in these few months, moving services and storage facilities will have a limited capacity. Call in advance to make sure you get your Go Mini's portable container.
PACK & LOAD EFFICIENTLY
If you're wondering where to start, here are some pro tips from the movers themselves. Also, pack boxes with your new home in mind; consider what will be a necessity once you arrive and keep items from one room/area together. LABEL EVERYTHING, including larger furniture items that you wrap in furniture blankets. Doing so will help you and anyone helping know precisely where in the house each box or furniture piece should go instead of having to move or search through the boxes multiple times before reaching their proper place in the house.
Once you are ready to load, remember to load all of the biggest and heaviest items on the bottom and stack lighter items on top. Load your container from back to front as tightly as possible. Utilize our tie-down points on the container walls to secure items to prevent them from shifting during transit. Think of it as real-life Tetris! Fill as many of the gaps as possible to maximize the space and keep items in place during transit.
Need packing materials? Go Mini's of Augusta can help! We offer a variety of supplies like boxes, tape, and other packing materials for purchase and even have a few supplies that we rent out on a month-to-month basis. Learn more about our packing supplies here.
UNPACKING IN THE NEW HOME
Consider allowing the unit to stay packed for the first day while you give the house and floors a good cleaning – it's much easier to do if everything is empty! Other unpacking recommended preparations include using cardboard or mats along the walkways through the house where a lot of foot traffic might flow during the unpacking process.
As mentioned in the previous tip, labeling everything on the front end is key to a quick and organized unload. Begin by placing the furniture and boxes directly into the rooms that are their ultimate destination within the home as you take them out of the unit (a few extra steps into the house instead of just dropping everything at the front door will save lots of time later).
If you labeled or packed any boxes that you weren't sure you were going to use in the new home, a temporary option is to store them in the garage while you focus on the high priority rooms first – you can always bounce back to these items once the buzz of moving has calmed down.
At this point, your unit is empty and ready for pick up by our team at Augusta Go Mini's, and if you've already pre-scheduled a time with us, our office will call to confirm 24 hours in advance and have you one step closer to settling into your new home!
Posted By
Go Mini's of Augusta
Categories: