On-site Inventory Storage Options
Go Mini's storage containers are the perfect solution for your storage needs. Whether you need a little extra storage space for day-to-day operations or a convenient place to store just-in-time inventory, Go Mini's® offers the convenience you need at a price you'll love.
Storage Container Options
If you are in need of extra storage space, Go Mini's® storage containers offer the perfect solution.
Standard Containers
Our moving and storage containers feature our patented container design and are more cost-effective and of higher quality than other rental container options on the market.
Wondering what makes Go Mini's so great? Here are a few features that set us apart:
Our storage containers come in three lengths: 12, 16, and 20 feet

Our containers have eight inches of ground clearance, so they are easy to load, but avoid groundwater and runoff in the event of heavy rain

All of our Go Mini's® containers have locking roll-up or swing doors, making it easy to keep your belongings safe and secure

The galvanized steel exterior of our containers is coated in factory-baked paint to prevent sweating

Our containers are engineered with padded wheels to protect your driveway
Refrigerated Containers
Ellefson Transportation Group and Go Mini's of Augusta partner with Cool It! containers to offer a refrigerated storage solution for businesses and hospitality professionals across the CSRA.
Cool It! cold storage rentals offer portable refrigerators and freezers. Our 10 ft cold storage containers are durable, weatherproof, and can address refrigerated and freezer storage needs and are conveniently delivered to your business by your local Go Mini's of Augusta team.
Here are a few features that distinguish our climate-controlled containers:
Can be cooled to sub-zero temperatures

Walk-in Cooler: keep items at refrigerated temperatures usually below 41 degrees Fahrenheit

Walk-in Freezer: designed to keep items at freezing temperature (0 degrees Fahrenheit)

Remote temperature monitoring

Security cameras

Bright interior LED lighting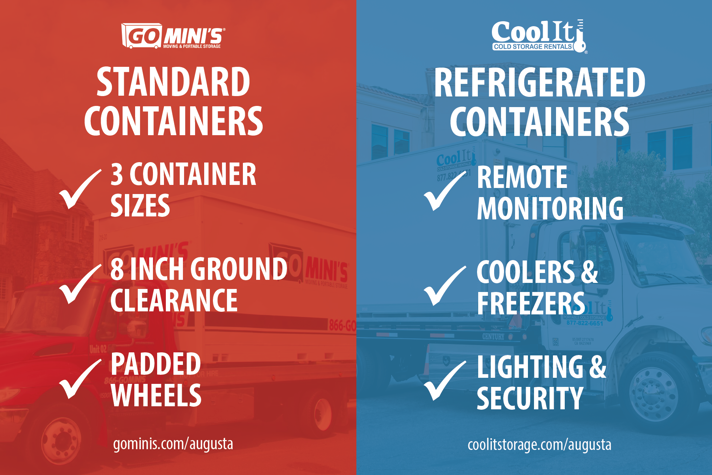 What Type Of Container Do I Need?
The type of container you need will depend on the types of items you are storing. Both container types offer long and short-term rentals. Here are some examples of things that would be best suited for each type of container.
Standard Containers
Our standard containers are a great option for personal or commercial use. These are some of the items that may be suitable for standard storage containers.
Just in time inventory

Extra supplies

Furnishings during a renovation

Job site equipment or supplies

Long or short term storage between living arrangements

Home clutter during home improvement projects or listing your home
Refrigerated Containers
Coolit! Containers serve a variety of industries including bars and restaurants, floral shops, pharmacies, catering companies, bakeries, and medical facilities. These are some of the items that may be stored in our climate-controlled storage containers.
Food and beverages

Floral products

Medical supplies
For more information on our refrigerated storage containers click here.
Schedule your Go Mini's container delivery today!
Posted By
Categories: