Summer Storage for Your College Student
Moving your student out of their college dorm can often be as difficult as moving them in. Use these moving tips and checklists to make the process a little easier.
Moving checklist
Moving can be stressful, especially on college campuses. Here are some tips to get you started.
The month before: Determine what will need to go into storage and what will be going home with you

Start packing before finals - waiting until after will only maximize your stress

Send stuff home beforehand (if possible)

Make a plan for old schoolwork and textbooks - sell, toss, or keep - think about whether or not you will use those notes again.

Separate items into three categories: things you need over the summer, things you won't touch until next fall, and things you can get rid of (discard, donate, sell)

Pack essentials last - items you need until the day you move such as toiletries and a change of clothes.
These timelines can help get everything packed and reduce stress the days before your move.
2-4 Weeks Before Your Move:
Wall decorations

Winter clothes and heavy jackets

Extra linens

Non-essentials
1 Week Before your Move
Dishes and utensils

Clothes - leave out the weeks worth of clothes and pack the rest

Electronics you don't use often

School materials not needed for finals
Morning of Move-Out
Bedsheets and pillows

Toiletries

Cleaning supplies - after you clean

School materials from finals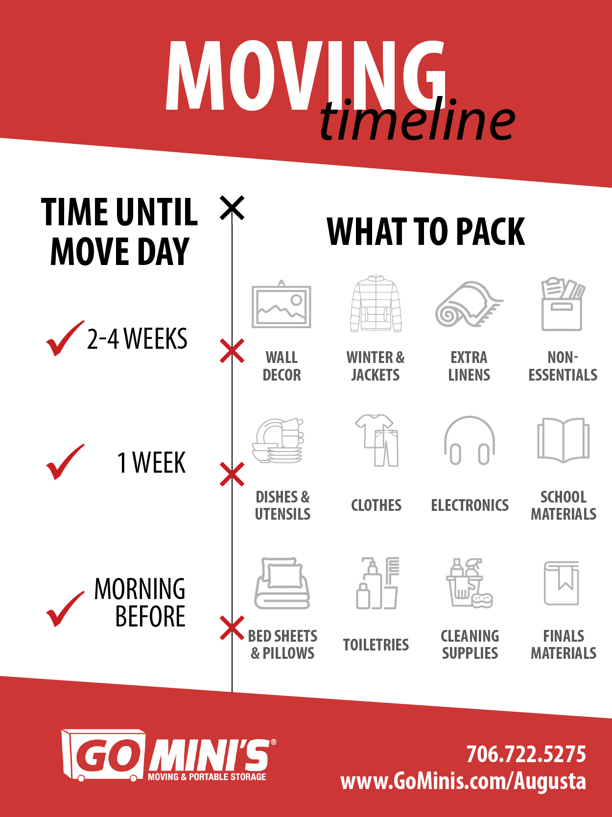 Storage tips
As you pack, separate items for storage and what you are bringing home.
The items you are planning to store should be securely packed. Make sure to use sturdy boxes, seal them with quality tape, and label everything.
Example:
SARAH - DORM
sheets, towels, and blankets
Make sure heat-sensitive items and non-allowable items are brought home with you and not put in the storage container.
Read our blog for more tips for a successful summer move.
Why Go Mini's?
If your summer move-out has you looking for short-term storage for larger items over the summer, consider Go Minis!
Why should you choose Go Mini's storage containers? Go mini's portable storage containers offer 29% more cubic feet of storage than our competitors. Not only do we offer more storage space, but we offer more savings! You can save on rental, storage, and delivery fees while paying less per cubic foot of storage.
Not sure how much storage you will need? Use our convenient storage space calculator! For more tips on how much your Go Mini's container will hold, and tips on how to best load your storage container, read here.
Need storage space to hold items until next fall? Contact us today to get a free quote!
Posted By
Categories: