Tips for Successful Summer Moving and Storage
With spring in full swing and summer on its way, warm weather is starting to make a more regular appearance. If you're storing any of your items inside our Go Mini's containers OR if you are preparing for a move this summer, here are a few things you need to know about keeping your items safe in that sticky summer heat.
What NOT to Store:
When prepping items for storage, it's important to consider the variety of conditions that exist in your climate and how they impact the condition of your items over time. If you're only planning to keep items in storage for a few weeks as you transition from one home to another, you'll only need to consider seasonal conditions, but for those looking for a long-term storage option, planning ahead is key.
When packing items for storage or transport during the hot summer months, it's important to consider how extreme heat can impact your items. Most furniture, clothing, and other household goods can withstand short term exposure to these conditions, but other items are susceptible to damage from heat exposure.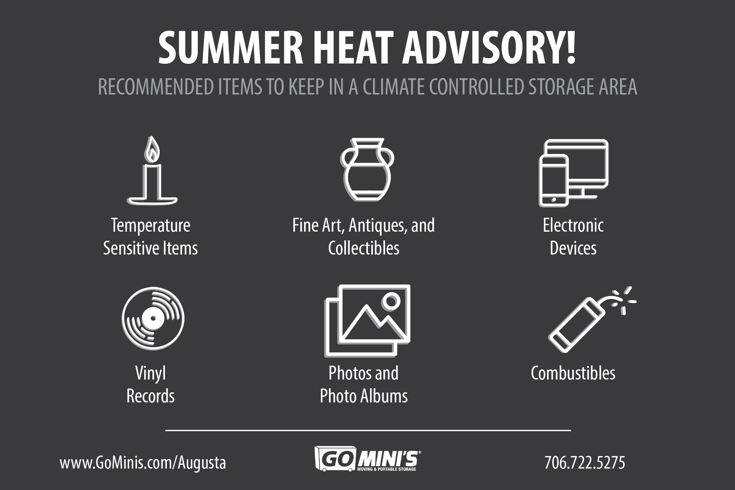 Be sure to remove the following items from your "storage" pile and prep them separately for safekeeping inside your home or for transport in your vehicle during your relocation:
Temperature Sensitive Items: This includes things like candles, some plastic items, cosmetics and more.
Fine art, antiques and collectibles: Take extra steps to protect your fine art, antiques, and other collectibles. Be sure to wrap them appropriately and for maximum protection, do not store these items insideyour container
Electronic Devices: Most electronic devices cannot withstand extreme heat for extended periods of time and are not ideal for long-term storage in a Go Mini's container. If you must transport those items during your relocation, consider loading them at the last minute and take extra steps to wrap and protect them during transit.
Vinyl Records: Vinyl Records are highly susceptible to heat damage. If you are a collector of vinyl, we recommend carrying those with you in your car and storing them in a cool place in your home.
Photos: Heat can cause photos to "melt" and stick together. If at all possible, avoid packing photo albums and photo boxes inside your container.
Combustibles: Any hazardous or flammable items should not be stored or transported inside your container
REMINDER: Check our list of non-allowables for additional items that should not be stored or transported in your Go Mini's container.
How to Prep your Items:
As you are packing and preparing items for storage and/or transport, here are a few pro tips you will want to keep in mind.
Packing Materials:
Be sure to source packing materials from a reliable source. While it may be more affordable to pick up extras from local stores and markets, residual moisture and critters can wreak havoc on items in your container in a short period of time.
News Print and Blankets
If you're planning to use paper to pad wrap your items, remember that the ink on newsprint can easily rub off and stain items. If possible use blank newsprint paper to wrap your items.
If you have extra blankets, use them to cover and protect large furniture pieces to lower the risk of scratches and dings while you're loading, transporting, and unloading your items.
Straps, Bungee Cords, and Rope:
Don't forget to your straps, bungee cords, and rope to keep your items in place. Use our interior tie-down points to secure your items as you load them into the container.

Pro packing tip: Think of it like Tetris! Make the layers as flat and square as possible and secure them as often as possible!
If you need extra materials, check out our full materials supply list here and reach out to our team for additional information on having packing supplies delivered with your container.
Go Mini's Protective Features:
Ventilated Units: All of our Go Mini's containers are ventilated to provide appropriate airflow throughout your unit to combat moisture and mildew, especially with increased humidity in the southern summers. Read more about the differences between ventilated units and climate-controlled units here.
Raised platform floors: Each of our containers sit 6 inches off the ground making them easy to load and unload while providing a high enough floor to protect against heavy rains and potential standing water after summer storms.
Additionally, Go Mini's offers more tiedown points to keep your items in place and secure, no matter how long you need to store them or how far they need to travel.
Need extra details or tips for planning your summer move? Follow us on social media or reach out to one of our account coordinators to schedule your container delivery today!
Posted By
Ellefson Transportation Group
Categories: