3 Reasons Homeowners Rent Our Containers (When They Aren't Moving)
Most people think of Go Mini's portable storage options as an alternative to renting a moving truck or hiring out a full-service moving company, but there are actually many other ways that people are using out on-site storage solutions.
We serve a variety of clients from residential customers to local businesses, organizations, and non-profits so we have seen our containers used for things like
excess inventory storage
on-site, short term storage for events
construction and job site storage
home renovation storage
home restorations and disaster recovery projects
donation collections
One of our most common rental needs, outside of moving, is for customers who are preparing to complete flooring projects in their homes or offices. These projects are typically short, only taking a few days or weeks, but require storage for all of the belongings in the areas where the floors are being replaced or refinished. We partner with D.I.Y. Weekend warriors as well as flooring companies, contractors, and restoration companies to provide convenient storage during these projects. Here are some of the ways our customers are making the most of the Go Min's containers during these projects.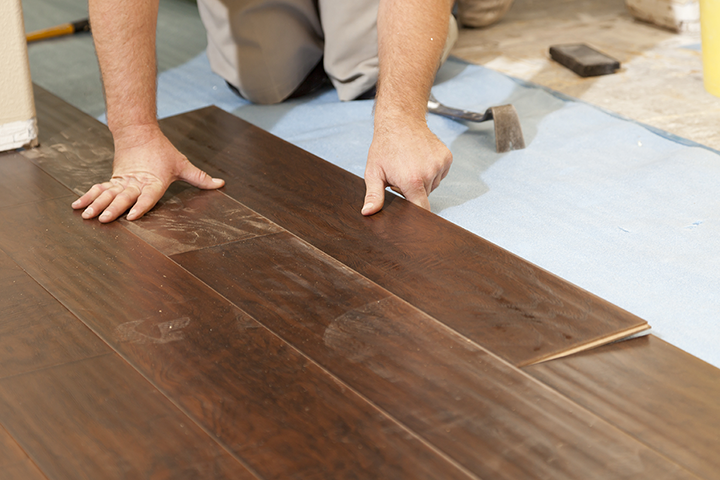 ON-SITE STORAGE DURING FLOORING REPLACEMENT OR REFINISHING
As any homeowner knows, the flooring in your home, especially in high-traffic areas, can take a beating. When this happens it often leads to replacing or refinishing floors in a large portion of your home, as opposed to just patching or cleaning damaged areas. Prior to starting your project you'll need to move all your furniture, rugs, and other items out of the spaces where the flooring is being worked on.
This often means carrying everything up to an attic or extra room and piling it up until the project is complete, or taking over your garage as a holding space for all your items until they can be moved back into your home. However, many homeowners do not have enough excess space in their homes to move all the furniture out temporarily. Go-Mini's is able to provide an on-site storage solution for as much or as little storage as you need. We offer 3 container sizes (12', 16' or 20') and are happy to help you find the solution best fit for your needs.
ON-SITE STORAGE DURING RESTORATION OR DISASTER RECOVERY PROJECTS
Accidents and disasters happen and when they do it often requires coordinating a lot of moving parts to get your home and your life back in order. We have partnered with many disaster recovery companies and home restoration pros throughout the years to provide quick, on-site storage solutions for the homeowners they are serving. Our containers provide the perfect easy-to-access solution so that homeowners can sort through items at their own pace and have storage for things that are able to be salvaged and returned to their home at the end of the restoration project. Our flexible rental options mean you are able to keep the container for as long as you need as you work to get your home back in order.
Posted By
Ellefson Transportation Group
Categories: