On-Site Storage Solutions for Masters Week 2019
The countdown is on and we're only about 2 months from one of Augusta's biggest events of the year, The Masters Tournament. From local hotels and restaurants to residents and retail establishments, many people are already making plans for how to handle the influx of tourists and patrons that will call Augusta home during tournament week.
In recent years, with the addition of events like the Drive, Chip and Putt and this year's Women's Amateur Tournament, locals have been able to capitalize on extended patron visits. With the dates for these new events coming almost a week before the tournament rolls into town, many businesses and homeowners find themselves prepping months in advance, which means our team at Go-Mini's is already working to prepare for the increase in container rentals for the weeks surrounding the tournament.
You might be wondering how people are using our containers, and we're happy to report we're the on-site storage solution of choice for a variety of businesses, hospitality groups, and even local residents during the annual event.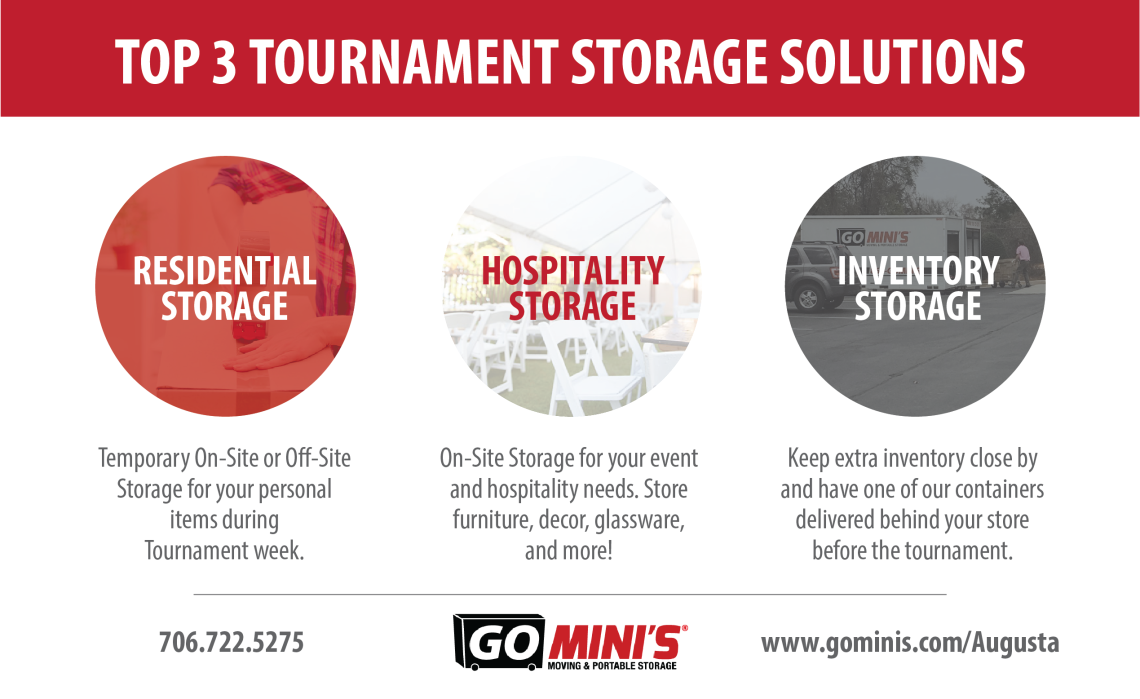 FOR LOCAL RESIDENTS:
For many local residents, Tournament Week marks the end of several weeks of cleaning, prep, and storing belongings as they prepare to rent out their homes to patrons traveling to the area.
If you're planning to rent your home for the 2019 tournament, or already have a rental lined up, Go-Mini's portable storage offers a convenient and affordable one-month "move-out" and storage solution. We will deliver your container as soon as you need it so you can begin filling it with all the items you had to remove from your home to prep for rental. Once the container is filled you can leave it locked outside your home OR you can contact us to have it picked up and stored at our facility during tournament week, leaving your driveway open to guests.
Once your guests have left, just schedule a return delivery for your container, unload it, and let us know when you're ready to return the empty container.
FOR CORPORATE USE:
Go-Mini's has proudly provided storage for a variety of corporate partners as they prepare to host and entertain guests throughout the Augusta area during The Masters. Our corporate partners often use our convenient, on-site storage to help with things like
Inventory storage:
Many businesses and Hospitality groups beef up their offerings during Tournament week, meaning they need more products, furniture, fixtures, etc. to serve additional customers and guests. Go-Mini's are a convenient, on-site storage option for your retail store or restaurant for inventory or dry storage.
Special Event Rentals:
From local business and corporate events to evening dinners, parties, and hospitality experiences, our containers allow event planners and coordinators to have easy-to-access storage at their event site, no matter the location! If you're planning an outdoor soiree with no place to store items in the days leading up to the event, we're here to help!
For Corporate Groups renting hospitality homes across the CSRA, our containers can provide you with convenient places to store tables, linens, chairs, lounge furniture and more between your events. Contact us today to determine your storage needs and reserve your containers.
HOW DO I GET STARTED?
Our easy-to-use, on-site storage containers come in 3 sizes, so no matter what you need to store, we can help! If you, your business, or your hospitality group are in need of an affordable, convenient storage solution, contact us today to reserve your containers and schedule delivery in time for the tournament. As the event draws closer our calendars will fill up, so make sure you plan ahead for all your storage needs!
Posted By
Go Mini's of Augusta
Categories: