Getting the Most ROI From Your Next Home Project
While many home owners make updates to their spaces for their personal enjoyment, there are many others who make changes and updates in their home specifically to increase the value before selling. If getting the most bang for your buck is at the top of your priority list when picking home projects, you might be surprised which ones will pay off the most. Many people go for the big-ticket items that really bring the wow-factor like kitchens, bathrooms, and outdoor spaces. These areas are often big hits with potential buyers, but that doesn't mean that the appraisers will echo that excitement in a higher home value down the road. We found some great stats about home projects in 2018 and which ones will have you seeing the highest return on your investment versus those that won't.
Remodeling Magazine put out their 2018 Cost V. Value report, which compares the average cost of 21 remodeling projects in a variety of markets across the U.S. The report was broken out into region, so the results we're sharing are for the South Atlantic region which includes states like Florida, Georgia, North and South Carolina, Virginia, West Virginia, and Maryland.
Your highest ROI will come from projects like a minor kitchen remodel, upgrading your deck, and making some exterior upgrades. Here's a snapshot of the return you can expect from the top 5 projects.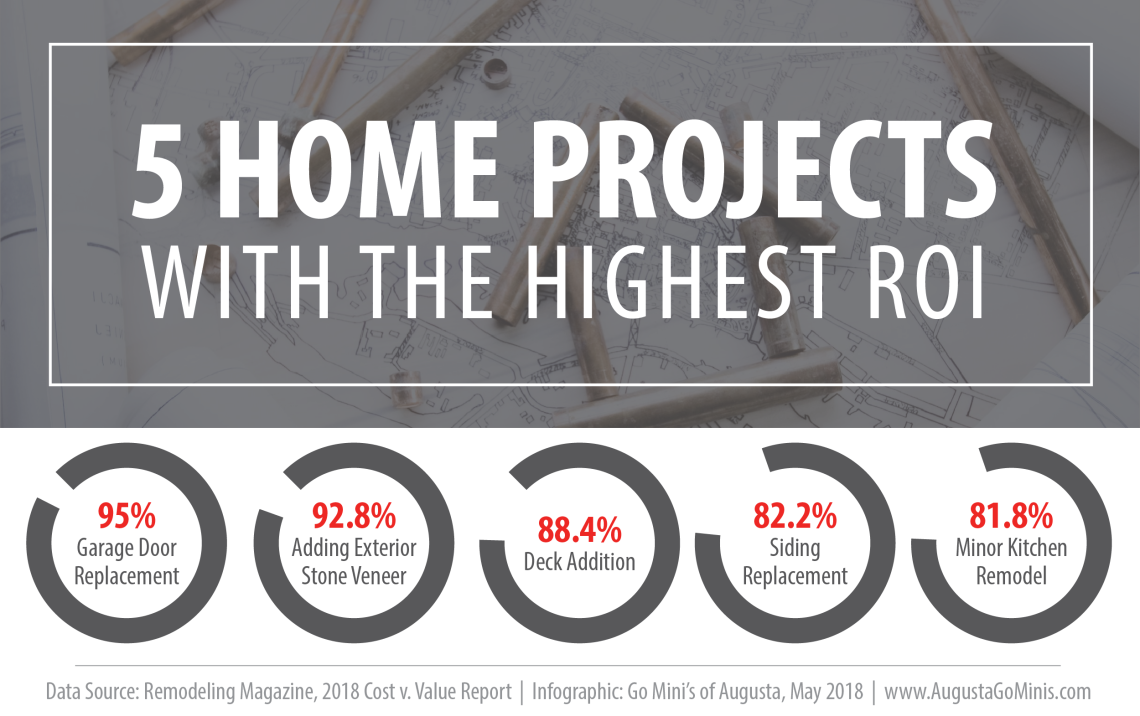 Minor Kitchen Remodel:
A minor remodel isn't like what you'd see on HGTV. This is simply keeping the existing footprint and giving the space a facelift. It might include items like:
Replacing Cabinet Doors
Repainting the Walls
Upgrading to energy-efficient Appliances
Replacing the Countertops
Install mid-priced sink and faucet
According to Remodeling Magazine, A project like this in a 200 sqft kitchen would cost just over $20,000 and you could see, on average, an 81% return on the investment.
Siding Replacement:
While this isn't the type of home update you love to spend your money on, it packs a pretty big punch in the ROI department and, as most sellers know, great curb appeal is a huge part of making that lasting first impression. The cost analysis for this project from Remodeling Magazine is based on replacing 1,250 sqft of siding including factory trim at all openings and corners. The project would cost about $14,200 and you could expect to see an ROI of 82.2%, on average.
Wood Deck Addition:
In a part of the country where outdoor living spaces are used a majority of the year, it's no surprise that the South Atlantic sees a higher ROI on this project than the national average. The project is estimated to cost about $10,000 for a 16×20 space and they recommend adding things like a matching built-in bench or planter to elevate the design. On average, home owners are seeing an 88.4% ROI on this type of project.
Manufactured Stone Veneer:
This project would be another one to help boost that curb appeal and make a great first impression. Remodeling Magazine suggests removing the bottom 1/3 of vinyl siding on your homes street facing exterior and replacing it work a stone veneer. For about 300 sqft of stone veneer they say homeowners could expect to spend approximately $8,000 and see an ROI of over 92%.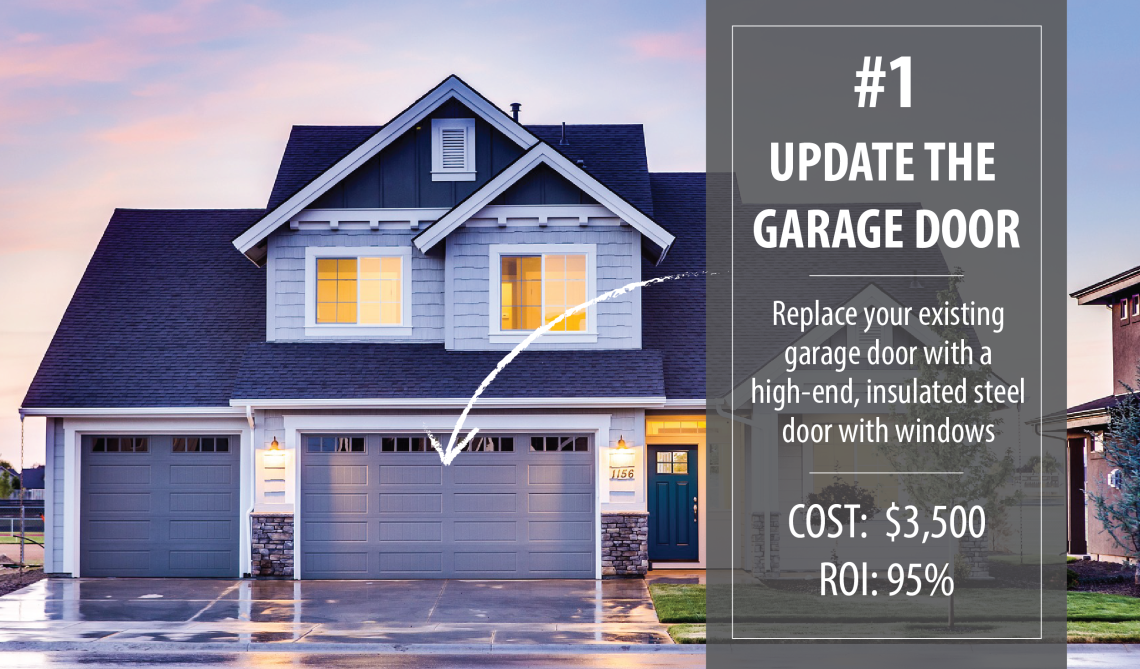 Garage Door Replacement:
That's right, the biggest bang for your buck comes from replacing your garage door with a more high-end, well-insulated option. To replace an existing 16×7 foot door and upgrade to a 4-section insulated steel door with heavy-duty steel tracks, insulated windows and galvanized steel hinges, you could expect to spend about $3,500 and in turn, see a 95% ROI.
While these projects might not be the most luxurious to complete, or effect the way you live IN your home, they offer a great return, especially if you are planning to sell. They also help to ensure your homes exterior is well maintained and are likely project that get overlooked more often. If you're wondering what some of the less "valuable" projects are, these 3 popular home updates were included in the report, but didn't quite have enough return to land them in the top-five for our region:
Midrange bathroom update, including replacing fixtures and tub, upgrading the countertops with integrated sinks and tiling the floor. Cost: $17,000 ROI:5%
Upscale bathroom remodel, including expanding the space, adding a separate tub and shower, upgrading fixtures, tile and flooring to high-end finishes, and installing heated floors. Cost: $58,000+ ROI:2%
Major Kitchen Remodel, this upscale remodel would include things like high-end finishes, stone countertops, tile backsplash, built-in commercial grade appliances, new flooring, undermount lighting on cabinets, designer fixtures and hardware, etc. Cost: $120,000+ ROI:56%
If you're planning for a home renovation project in the coming months, whether you're considering options to improve a home you plan to stay in for a while or are looking to get a high return as you prepare to sell, the analysis in this 2018 cost v. value report is definitely worth the read! You can check out the full report for the South Atlantic Region here.
Posted By
Go Mini's of Augusta
Categories: